홈 GYM 인테리어
Choose an Elevated Color Scheme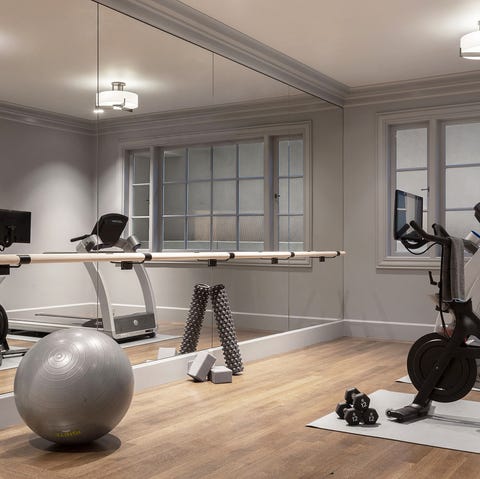 Heather Hilliard made this home gym look elegant by painting it a cool shade of gray and opting for exercise equipment in a similar tone. The consistent color story makes everything feel chic and elevated without having to compromise on functionality. Also, a wall-to-wall mirror can help you work on your form while also making q stuffy basement or small gym feel much larger.
Make Room for Storage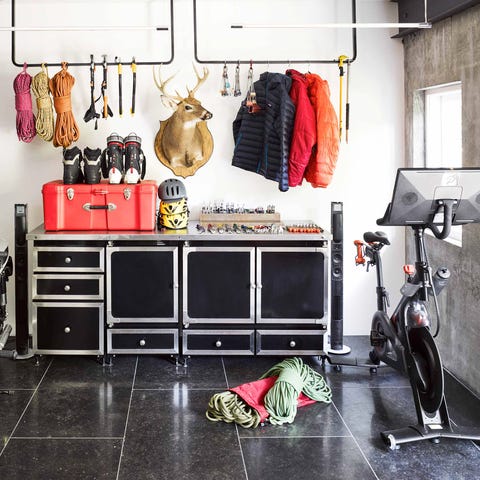 Choose a modern dresser or sideboard to store your belongings inn style and then opt for a statement piece to jazz up the walls as Nicole Hollis did here. Then set up equipment near a window, if you can.
Set the Right Mood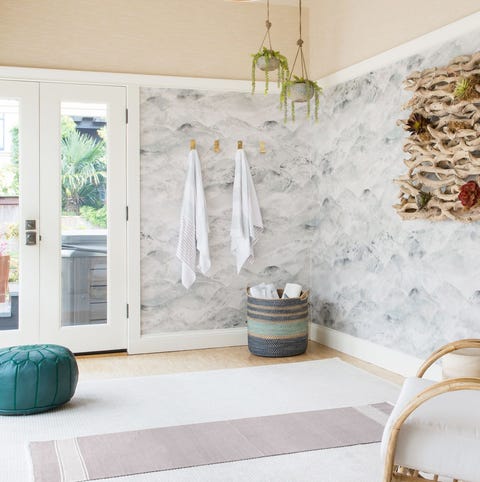 Think about what you'll be using the space for so you can set the right mood that'll actually inspire you to, well, use it. In this space, Regan Baker Design incorporated plenty of nature-inspired decor to create a calming environment, from the hanging greenery to the decorative wood wall piece and wave-like wallpaper. It's perfect for yoga and other restorative mat routines.
Separate It With a Pocket Door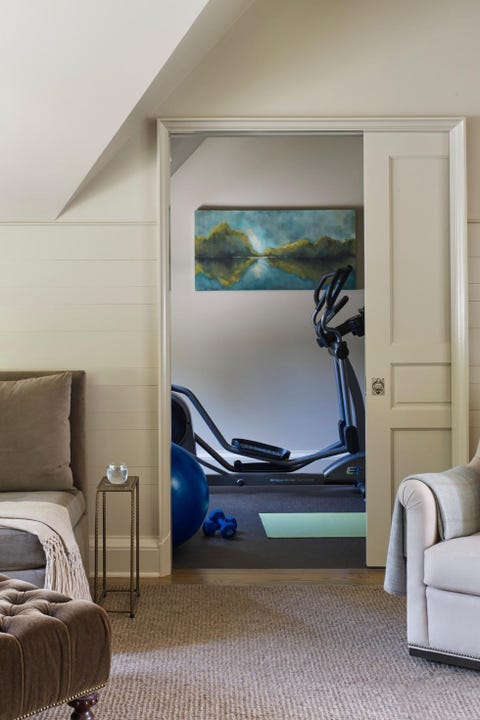 If your media room shares a space with a home gym and/ or home office, consider creating more privacy and separation with a sliding door. It'll help delineate the hobbies done there and add a little privacy without taking up all the space a swing door would.
Pack It All in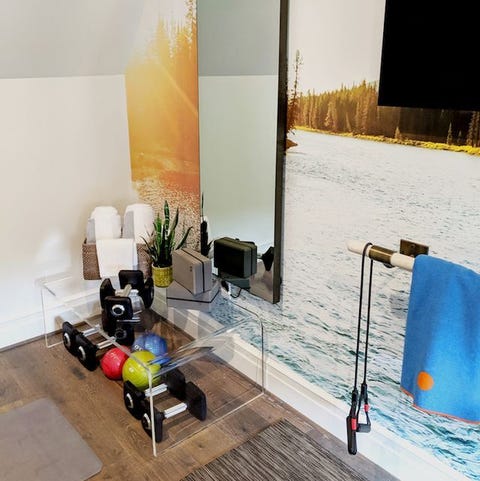 You don't need a massive space to create a great home gym you'll actually use. Nestled into a corner, this workout space by Rachel Haag and Joy Huber of Castle Homes design team packs all the essentials into a small would-be storage room. There's a mounted ballet barre, weight balls, and a deceptive Mirror that's actually an interactive video platform with trainer-guided workouts.
Add Some Spa Features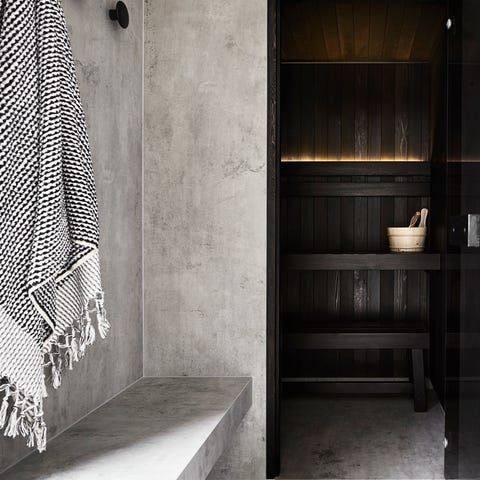 If space and budget allow, add some bells and whistles, like a home sauna for some post-workout detoxing. Here, Studio Griffiths gave this wooden paneling an inky stain, and then back-lit the walls for added drama (heat-​resistant lights are a sauna essential). This ensures an easy transition to the edgy concrete materials used in the adjacent space.
Convert Any Unused Room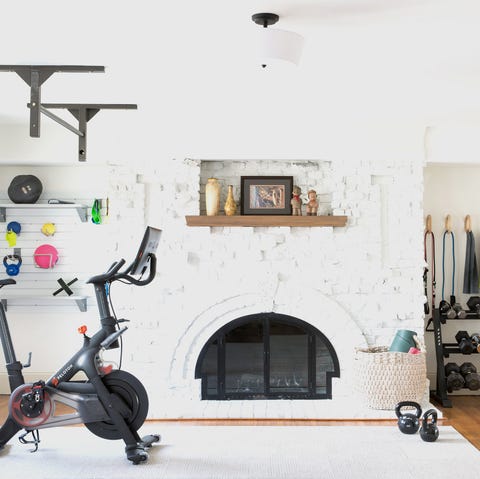 This space by Regan Baker Design proves that just about any room can be used as a home gym with the right approach. Baskets house yoga mats, floating shelves hold other workout accessories, and the stationary bike looks much more stylish against the clean, contemporary backdrop.
Look Outside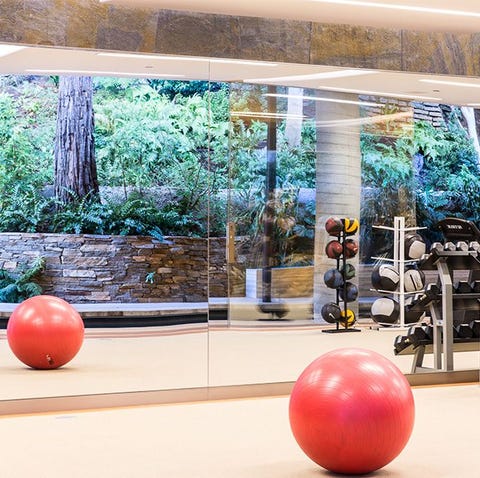 If possible, situate your home gym somewhere with a view. Whether you can look out onto an expansive ocean scene or just see a bit of greenery, being able to look outside might trick you into thinking you're doing something a little chiller than an earlier morning workout.
Make It Kid-Friendly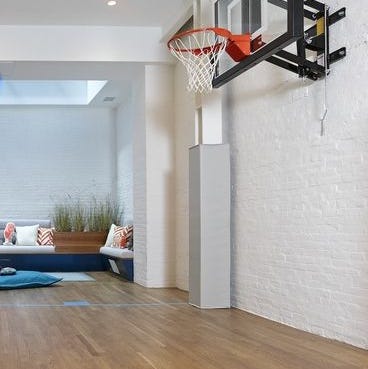 If you and/or your kids love shooting hoops, build a half court at home instead of just your classic gym. You could also get a kid-sized, arcade-style basketball hoop if space is an issue.
Add Games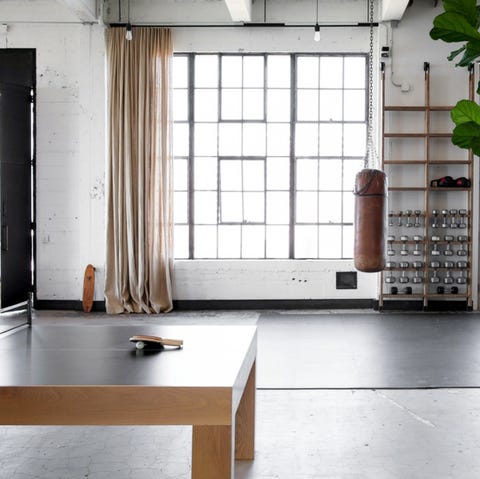 Leave room for fun! This industrial home gym by Alexander Design takes advantage of vertical space with a shelving unit for weights and a hanging punching bag for boxing practice. The mat on the floor softens the concrete foundations, too, and the ping pong table allows for some recreation between sets.
Get Organized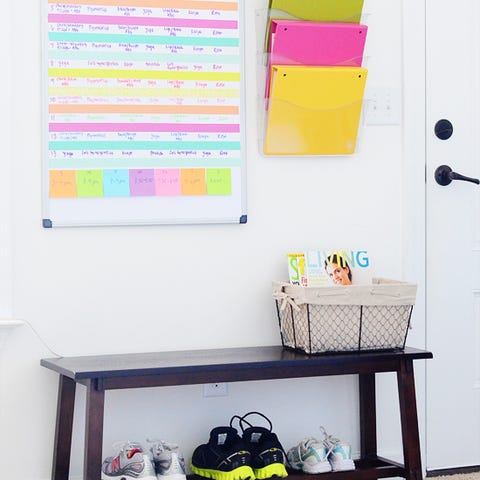 If you want to make sure you actually sneak in regular sweat sessions, you're going to need a schedule. Hang up a white board and use it to plan your monthly workouts. Pro tip: Fun colors make exercise a little less painstaking. See more at A Bowfull of Lemons.
https://www.housebeautiful.com/room-decorating/g23301494/home-gym-ideas/